James J. Braddock - The Movie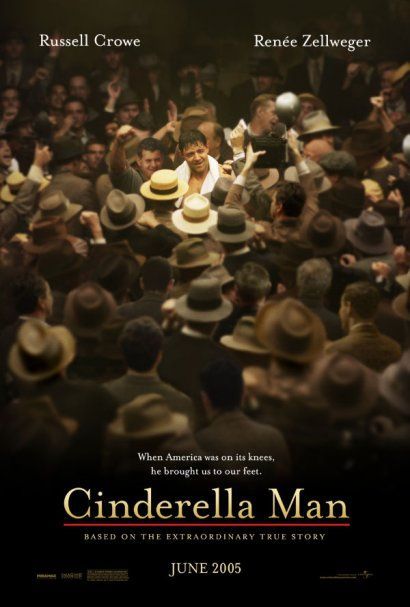 Starring: Russell Crowe, Renée Zellweger, Paul Giamatti, Craig Bierko
Directed by: Ron Howard
Release Date: June 3rd, 2005

In the middle of the Great Depression, when an America in the grips of a devastating economic downturn was nearly brought to its knees, there came along a most unlikely hero who had crowds cheering on their feet-as he proved just how hard a man would fight to win a second chance for his family and himself.

That common-man hero was James J. Braddock-a.k.a. the "Cinderella Man"-who was to become one of the most surprising and inspirational sports legends in history. By the early 1930s, the impoverished ex-prizefighter was seemingly as broken-down, beaten-up and out-of-luck as much of the rest of the American populace. Like so many others, Braddock had hit rock bottom. His career appeared to be finished, he was unable to pay the bills, the only thing that really mattered to him-his family-was in danger, and he was even forced to go on Public Relief. But deep inside, Jim Braddock never relinquished his determination. Driven by love, honor and an incredible dose of grit, he willed an impossible dream to come true.

In a last-chance bid to help his family, Braddock returned to the ring. No one thought he had a shot. In bout after bout, the talk was that poor Jim Braddock was criminally out-matched and perilously in over his head. Except that Braddock, fueled by something beyond mere competition, kept winning. Suddenly, the ordinary working man who couldn't get a job became the mythic athlete who could not lose. Carrying the hopes and dreams of the disenfranchised on his shoulders, Braddock rocketed through the ranks, until this underdog who defied all the odds chose to do the unthinkable: take on the heavyweight champ of the world, the unstoppable Max Baer, renowned for having killed two men in the ring.

With Cinderella Man, an Academy Award®-winning team-comprised of producer Brian Grazer, director Ron Howard, story by Cliff Hollingsworth, screenplay by Cliff Hollingsworth and Akiva Goldsman and actors Russell Crowe and Renée Zellweger-comes together to tell the quintessentially American story of a man who was not so much a great boxer as a great man who boxed his way out of darkness and defeat and into the stuff of immortality.

Academy Award® winner Russell Crowe stars as Jim Braddock, whose single-minded devotion to family and dignity became just as famous as his tricky feints and killer left hook. The story begins when Braddock-once full of promise-is forced into retirement from boxing after a run of bad luck, just as America itself is sliding into the most frightening hard economic times the nation has ever known. Facing imminent poverty, Jim wants only to do right by the woman who has always been his source of strength-his feisty wife Mae, played by Oscar® winner Renée Zellweger. At first, he takes a string of dead-end dock jobs that only seem to leave him poorer. But soon, the tightly-wedded couple are drowning in debt and emotionally devastated to see their children shivering in an unheated apartment amid the dead of a Jersey winter.

Then, as a result of the efforts of Jim's indefatigable manager, Joe Gould (played by Golden Globe nominee Paul Giamatti), Jim gets an out-of-the-blue, last-ditch shot to fight in Madison Square Garden-and more importantly, a chance to put some food on the table for those he loves. Despite being too old, too hungry and too injured to be considered a real contender-and in direct opposition to Mae's strident fears for her husband's life-Braddock nevertheless steps back into the ring without any training. Stunning the crowd and the media, he knocks out his rising-star opponent…thanks in part to a powerful hook developed during countless hours of dock work. But it doesn't stop there. His career re-ignited, he starts to dig his family, victory by victory, out of their hole.

And the more he wins, the more Jim Braddock unwittingly becomes a folk hero, until it is as if every time he stands up to an opponent, he is standing up for the millions just like him battling to take care of their families and keep alive their sidelined dreams.

Then, finally, comes the match of Braddock's life, as he boldly agrees to face off against world heavyweight champ Max Baer, a cocky powerhouse of a fighter with a punch so lethal he has already killed two men in the ring. Some say that Braddock will never even survive the match. Indeed, the odds are ten to one in Baer's favor as Braddock steps into his corner. But Jim Braddock has a different view: that this time he knows in his heart the incredible stakes for which he is fighting.

Says director Ron Howard: "The story of Jim Braddock continues to be so incredibly stirring because it is a tale that reminds us of just how remarkable human endurance and the power of love can be. Cinderella Man is a true American story about what it's like to cope in the moment, facing life's daily hardships, and to continue to passionately strive toward a goal-even a simple one like putting food on the table-no matter what the outcome turns out to be. It's that kind of story, that kind of cinematic journey that has always intrigued me as a filmmaker."

Cinderella Man is a Universal Pictures/Miramax Films/Imagine Entertainment presentation of A Brian Grazer Production in association with Parkway Productions of A Ron Howard Film. The film is directed by Ron Howard and is produced by Brian Grazer, Ron Howard and Penny Marshall. The story is by Cliff Hollingsworth and the screenplay is by Hollingsworth and Akiva Goldsman.

Joining Crowe and Zellweger in bringing the story of Braddock's triumph to the screen are Paul Giamatti (Sideways, American Splendor) as Joe Gould, the sharp-tongued trainer who managed one of the greatest comebacks of all time; Craig Bierko (Broadway's The Music Man, The Long Kiss Goodnight) as Max Baer, the flamboyant heavyweight champion of the world; Bruce Mcgill (Collateral, Elizabethtown) as Jimmy Johnston, '30s boxing promoter who engineered bouts with the showmanship and control of a Roman emperor ruling over a gladiator challenge; and Paddy Considine (In America) as Mike Wilson, a fictional character whose story of personal downfall during the Depression serves as a counterpoint to Braddock's astonishing ascent. Stepping in to portray Braddock's opponents in the ring are several current boxing stars, including heavyweight fighter Art Binkowski (as Corn Griffin), light heavyweight Troy Amos-Ross (as John Henry Lewis) and heavyweight Mark Simmons (as Art Lasky).

Ron Howard's accomplished creative team who bring Depression Era America and the visceral thrills of the boxing ring to life include: cinematographer Salvatore Totino (Any Given Sunday, The Missing), production designer Wynn Thomas (A Beautiful Mind, Analyze That), Oscar®-winning editors and long-time Ron Howard associates Mike Hill and Dan Hanley (Apollo 13, A Beautiful Mind) and costume designer Daniel Orlandi (Meet the Parents, The Alamo). Music is by Thomas Newman (Road to Perdition, Finding Nemo). Boxing choreographer Nick Powell and boxing/stunt coordinator Steve Lucescu, under the guidance of legendary boxing trainer/consultant Angelo Dundee (noted for his work with Muhammad Ali and Sugar Ray Leonard, among others), coordinated the film's boxing sequences.